TechnoTeam LMK6 COLOR IMAGING PHOTOMETER/COLORIMETER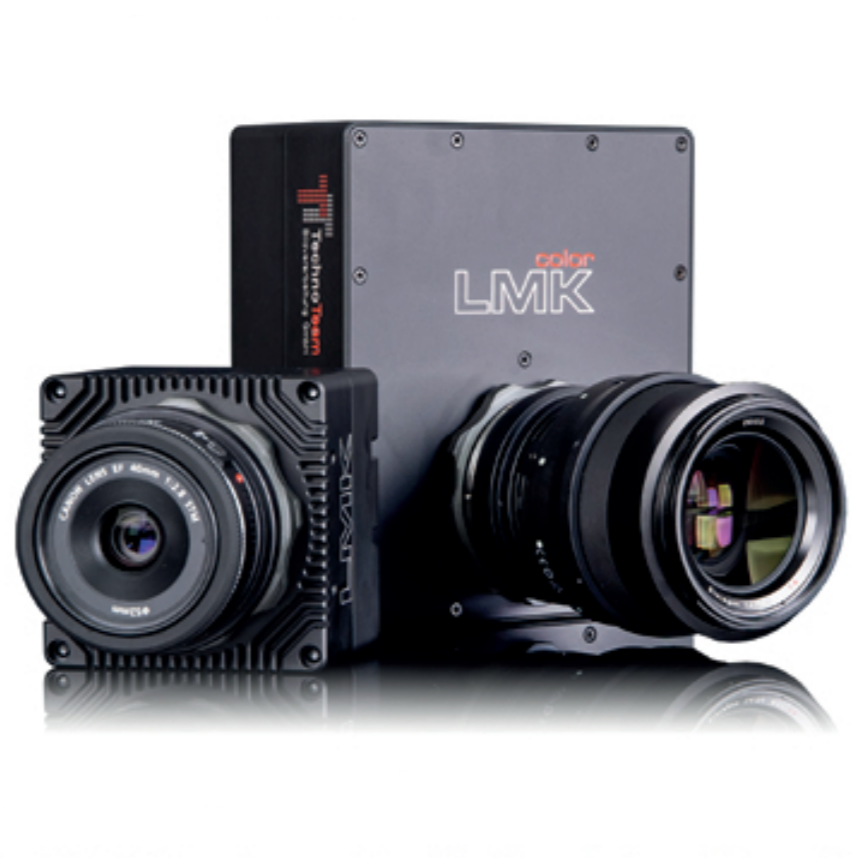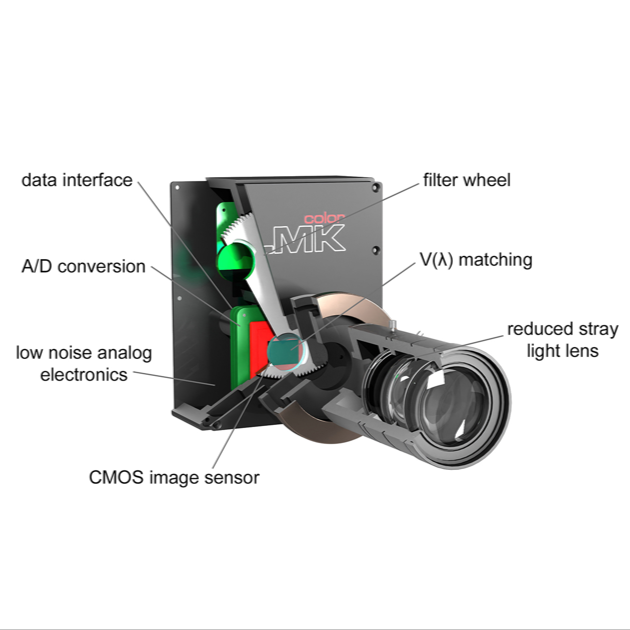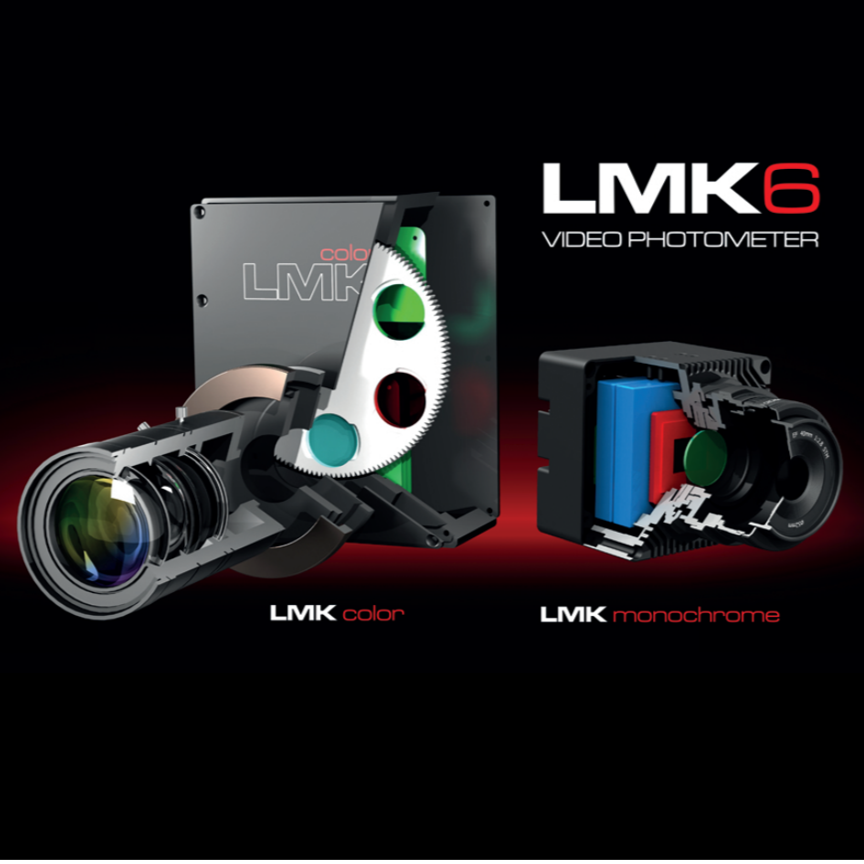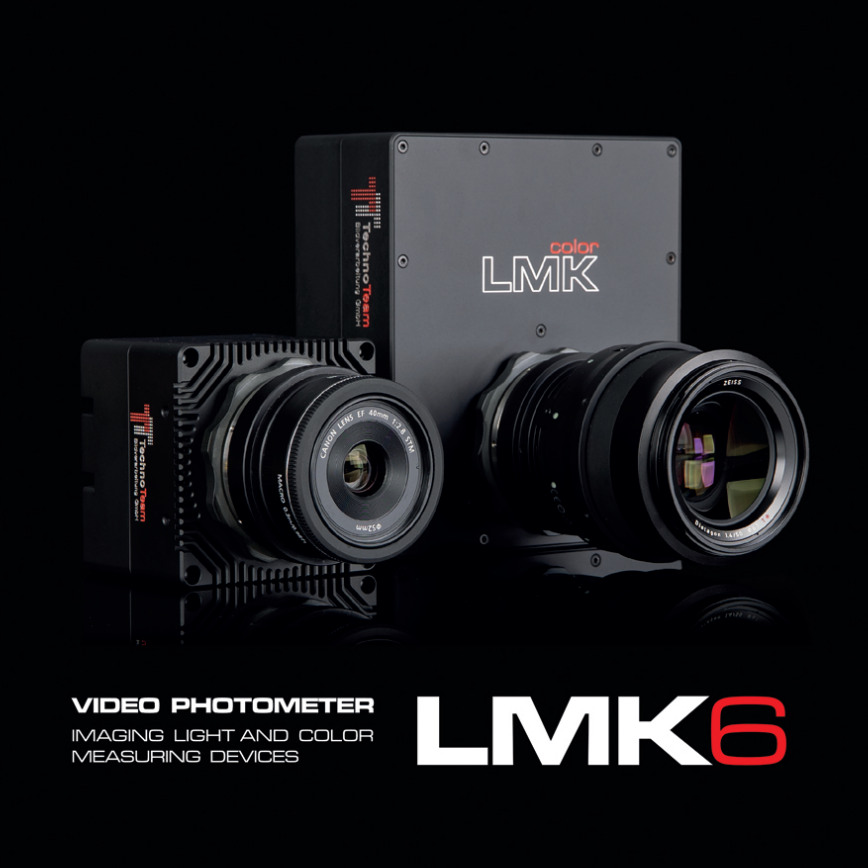 LMK Imaging Photometer / Colorimeter
TechnoTeam LMK6 COLOR IMAGING PHOTOMETER/COLORIMETER
LMK 6 COLOR
Features

LMK 6 is currently the image luminance meter specified by many international car manufacturers and Tier 1 in the field of automotive displays.
It can measure black mura, image sticking, Sparkle, viewing angle, etc., with excellent stability and color accuracy.
The LMK 6 color is TechnoTeam's color measurement camera and used in many ways as a standalone measuring device. It is designed to be compact and lightweight and can be used in almost any color measurement application. As it is one of TechnoTeam's core products it is also used in our other camera based measurement systems.
The system is currently available in three different basic models with different sensor sizes. Equipped with a color filter wheel, with which measurements of color and brightness can be evaluated according to human brightness perception (acc. to CIE 1931 XYZ 2° standard observer).
Description
Size and Weight
High transmissive spectral matching glass filters
Further special filters available (scotopic, melanopic, infrared, Blue Light Hazard, BK7)t
Product package
The integrated filter wheel of the LMK 6 color is equipped with 4 full-glass filters for luminance and color measurement according to CIE-XYZ 2° standard observer and offers space for two additional filters. These can be equipped with our special filters:
Scotopic filter V'(λ)
Melanopic filter Smel(λ) (ipRGCC, according to CIE S 026:2018)
Infrared filter (NIR range from 780 - 1100 nm).
Blue Light Hazard Filter (according to IEC 62471)
BK7 glass filter to work with the spectral responsivity of the sensor.
The LMK 6 color can be configured with a large variety of different lenses and special optics using a flexible bayonet exchange mount. This means that only one measurement system is needed to do a variety of different measurement tasks. The LMK 6 color can also be equipped with further lenses at any time in our facility, requiring only one further additional calibration.
The LMK 6 color is always delivered with the a control and analysis software package - corresponding to your application.
The LMK color system always comes with a lifetime support service and calibration service. This ensures that your system is always kept up to date, and you get to work on your measurement tasks with ease.
Result data
Luminance distributions in measured images L(x,y)
Color and chromaticity distributions in measured images
Supported color spaces: CIE-RGB, CIE-XYZ, sRGB, EBU-RGB, User, Lxy, Luv, Lu'v', L*u*v*, C*h*s*uv , L*a*b*, C*h*ab, HIS, HSV, HSL, WST (dom. wavelength, color saturation, corr. color temperature CCT)
Derived photometric parameters such as illuminance distribution E(x,y) and luminous intensity distribution I(x,y)
Statistical data for use in various calculation softwares (z.B. EXCEL®, MatLAB®, LabVIEW®)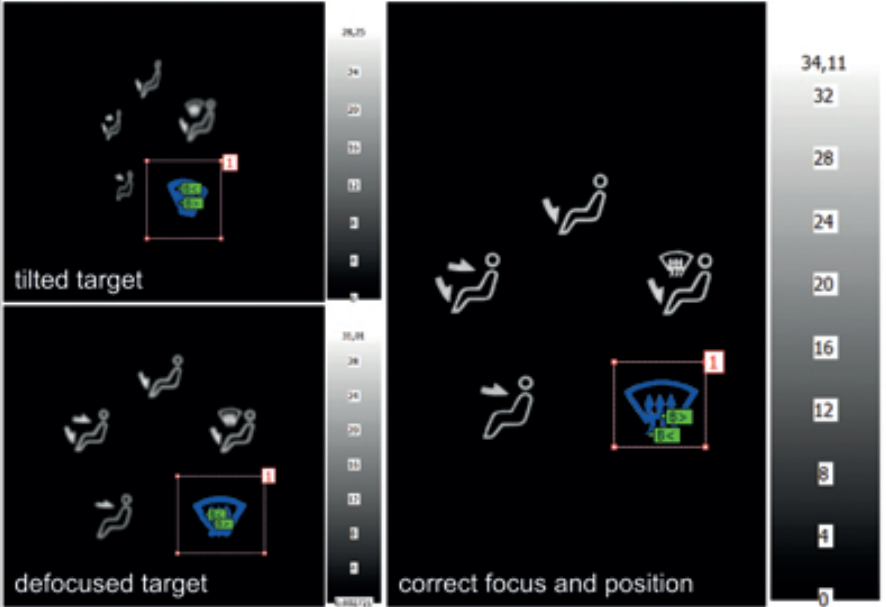 Display Testing Applications

Monitor Black Mura Testing
Mini/Micro
LED Applications
Analysis of Automotive Light Characteristics
Monitor Ghosting Testing
Monitor Viewing Angle Contrast Testing
Quantification of Monitor Sparkle Intensity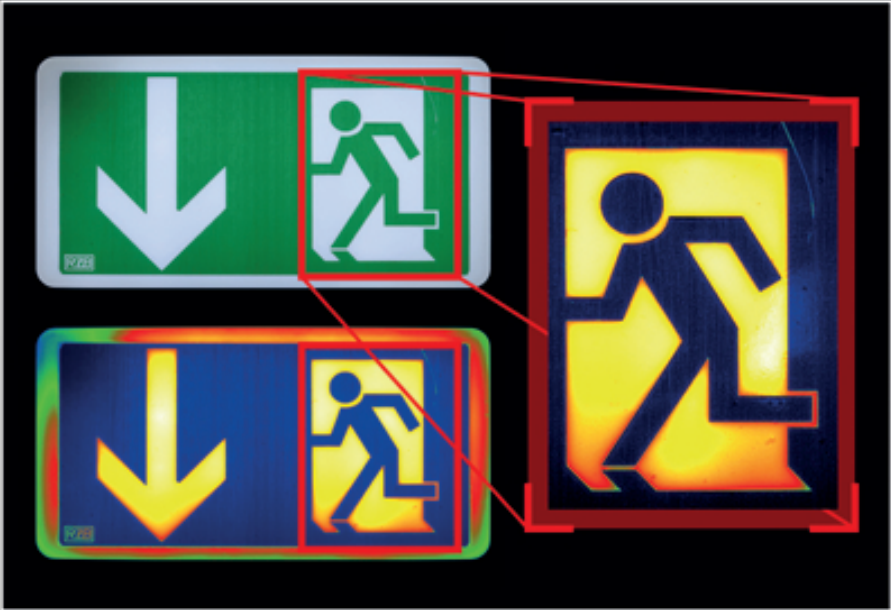 Lighting Applications

LMK imaging photometer for blue light hazard (BLH) assessment
Zhaga testing cases for LED modules
Image-based solutions for LED bar testing
Dynamic testing and evaluation of road lighting
Lighting environment and glare testing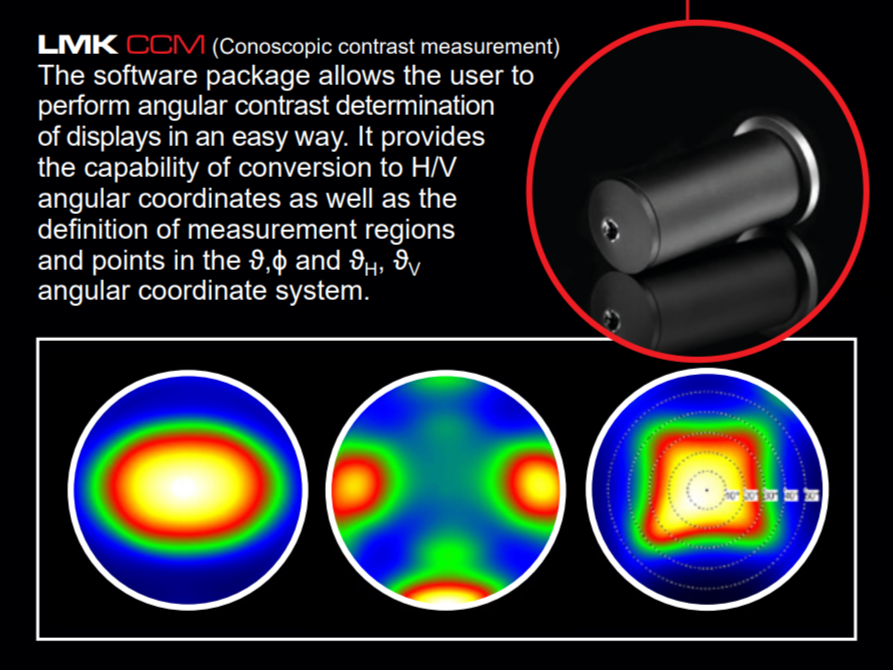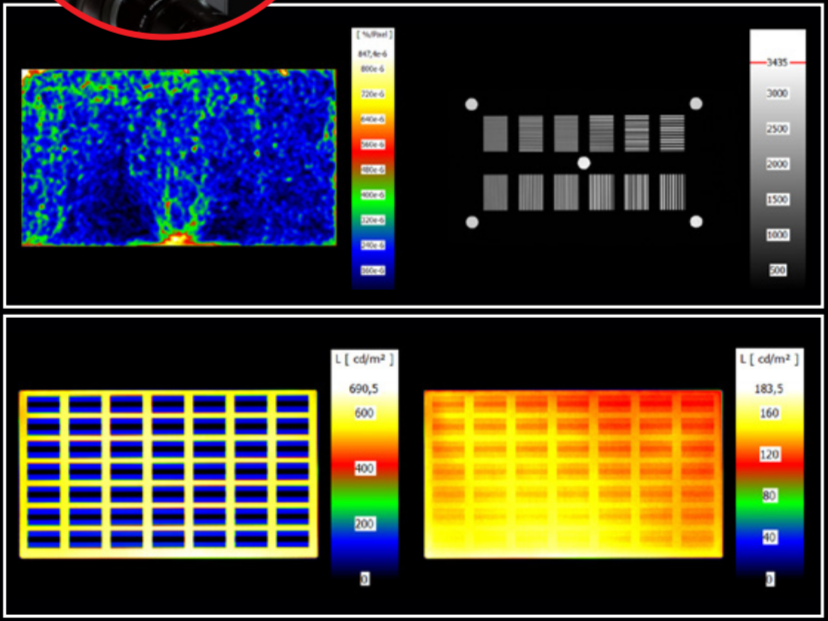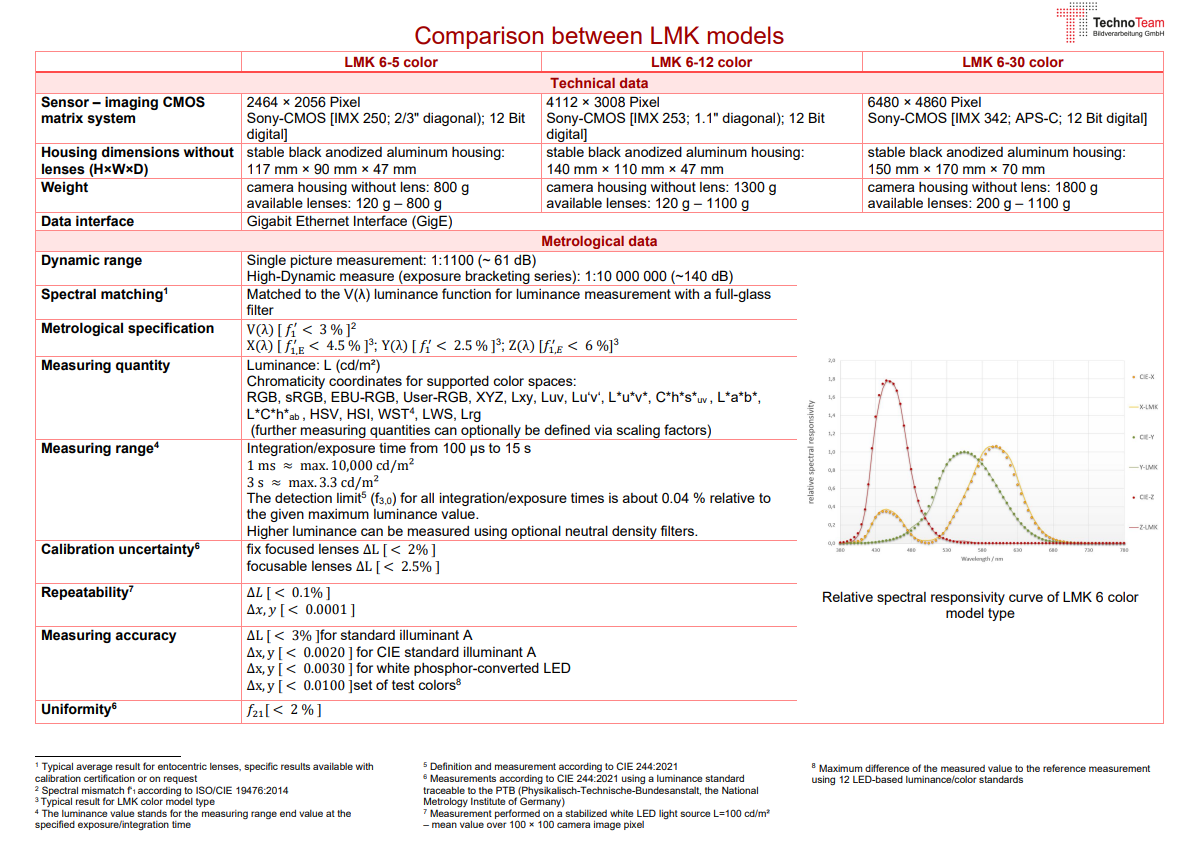 The LMK 6 color model types are available for three different image sensor sizes: 5; 12 and 30 mega pixel. There are different lenses, optical components and software application packages available depending on the model type. Click on the different LMK 6 color models to find out what the advantages of each model are!